About The Women's Centre of Well Being
Specializing in Obstetrics, Gynecology & Surgery Near Houston
Welcome to The Women's Centre for Well Being, the practice of Dr. Gregory L. Eads in The Woodlands, Texas. Everyone here wants to serve your needs as a unique individual. Our name includes Well Being to stress that we care about your overall well being including your gynecological health. We believe that well being means a balance between physical, mental, and spiritual needs. We are committed to quality care and are highly trained. We are dedicated to continuing education to stay on the forefront of medical and surgical advances.
Robotic Gynecology Surgical Specialist
Dr. Eads has special interest and training in minimally invasive surgery (laparoscopic), repair of pelvic prolapse and urinary incontinence, and office based treatment of menorrhagia (heavy periods). He is very experienced in the use of the da Vinci robot and is a proctor (teacher) of this technique throughout Texas, New Mexico, Louisiana, Georgia and Florida.
We realize that your time is very valuable. We strive to stay on schedule. One of the advantages of our practice is that we limit the number of deliveries per month to give you individualized care. We are focused on you!
Mission Statement: To provide you with the highest quality care in the same way we would want to receive care.
Gregory Eads, M.D
---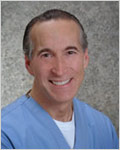 Lisa Neuman, PA-C
---
---
Hospital Affiliations in Southeast Texas
---
Dr. Eads is affiliated with the following hospitals in the Houston, TX area:
The Woodlands Surgical Center
---